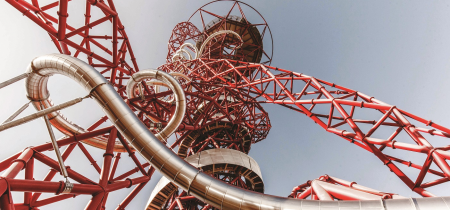 The Slide at ArcelorMittal Orbit
Challenge your friends and family to a 40 second descent down the world's tallest and longest tunnel Slide, as well as experiencing breathtaking views of London from two observation platforms, Anish Kapoor's famous concave mirrors, innovative touchscreens and the sounds of the city as you descend the 455 stairs.

Visitor requirements before booking:
Be at least 1.3m and 8 years old or over to Slide
Weigh under 130kg (22 stone)
Read and understood our terms and conditions here
For fantastic Group rates for parties of 15 people or more please call our Ticketing and Information Line on 0333 800 8099. Please note that group rates are not available for combined packages including Brunch at The Last Drop Café.

If you have an Annual Pass please remember that tickets for The Slide must be bought separately by calling 0333 800 8099.

Attraction Opening Times:
Friday to Monday - 11.00 to 15.00
Read more
Have your got your Face Mask ready for your Slide?
Close
The Slide at ArcelorMittal Orbit
Challenge your friends and family to a 40 second descent down the world's tallest and longest tunnel Slide, as well as experiencing breathtaking views of London from two observation platforms, Anish Kapoor's famous concave mirrors, innovative touchscreens and the sounds of the city as you descend the 455 stairs.

Visitor requirements before booking:
Be at least 1.3m and 8 years old or over to Slide
Weigh under 130kg (22 stone)
Read and understood our terms and conditions here
For fantastic Group rates for parties of 15 people or more please call our Ticketing and Information Line on 0333 800 8099. Please note that group rates are not available for combined packages including Brunch at The Last Drop Café.

If you have an Annual Pass please remember that tickets for The Slide must be bought separately by calling 0333 800 8099.

Attraction Opening Times:
Friday to Monday - 11.00 to 15.00